Join CORE for an evening of fun and laughter!
CORE is hosting a Karaoke & Game Night for members and guests. Come enjoy dinner, games, and the musical stylings of your peers.
Event Date: Wednesday, 9/27/2023
Time: 5-8pm
Location: CORE; 100 Hegenberger Rd., Oakland
Please RSVP by Monday, 9/25/2023
RSVP link: https://tinyurl.com/COREMOTOWN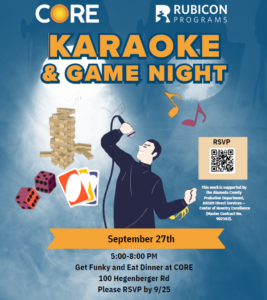 Operated by Rubicon Programs. This work is supported by the Alameda County Probation Department, AB109 Direct Services — Center of Reentry Excellence [Master Contract No. 902102].